The Co-op received one of GCMGA's grants for 2021. According to Jackie Daniell, Master Gardener Extension Volunteer (MGEV) and project leader for the Co-op Garden which produces fruits and vegetables for the Southeastern Gwinnett Cooperative Ministry in Grayson, when you are faced with raised beds and limited space to grow food crops you should be judicious in how you plan, schedule, and allot space in your garden.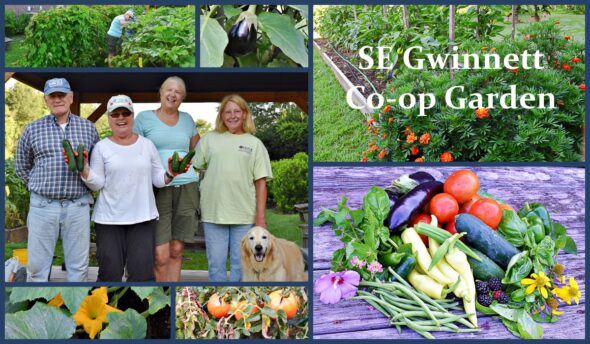 This is particularly important when you are trying to feed as many people as possible with the resources at hand. In addition to space saving with plants growing closer together, if you know what plants get along together and enhance or antagonize one another's growth you can increase your food production with intercropping and side crops using companion planting. This goes beyond just the basic rotation of crops and consideration for plant families. For example, everyone's favorite garden veggie is tomatoes, but if you time it right you can start a side crop of bulb onions before the tomatoes are planted, the onions will mature and can be harvested about the time the tomato plants are medium height/size, then start carrots as the new side crop all while waiting for your tomato crop to come in. If you have a square foot of space left, intercrop basil between several of the tomato plants. It will love the tomatoes, and the tomatoes will love it right back. Another great combination is okra with a side crop of bush beans, or radishes as a side crop to pole beans and cucumbers with beets and radishes on the side. You get the idea. Don't forget to add a few pollinator plants interspersed or at the end of the beds.
Since we live in the south you can at least get a second crop in before first frost if you start the first crop early enough but remember to rotate your crops. For instance, Irish potatoes were planted at the end of February and harvested at the end of May through the middle of June. The bed was then planted in July with okra which will produce until frost. The bed will then be planted with spinach, beets and carrots which are cool weather crops, and some can overwinter. Although their space is limited, so far this year the 6-9 regular volunteers have harvested 1,144 pounds of fresh produce and probably more as of this publication date.
Their regular workday is every Wednesday, but from June to October, Mondays and Fridays are also days when their help is needed. Currently there are a total of nine volunteers and includes: Patsy Evans, Rob Cashbough, Ron Mertz along with the Master Gardener Extension Volunteers (MGEV): Ileen Meggison, Diane Krish, Peggy Moss, Janet Leutzinger, Gaye Bruce and, and of course Jackie Daniell, Project Leader. They are all watched over by a very laid-back golden retriever named Master Dawson also known as "Garden Dog" who loves to taste test all the vegetables except the eggplant. Volunteers who were present the day of the photo were Ron Mertz, Ileen Meggison, Diane Krish, and Jackie Daniell, and top dog in charge – Master Dawson.
The crop list is extensive: tomatoes, Irish potatoes, sweet potatoes, pole & bush beans, bell peppers, jalapeno peppers, banana peppers, green & bulb onions, cucumbers, asparagus, okra, summer squash, eggplant, radishes, carrots, beets, broccoli, cauliflower, kohlrabi, lettuce, spinach, kale, turnips, mustard greens, cabbage, collards, basil, and blackberries. This requires a lot of work from a core of volunteers.