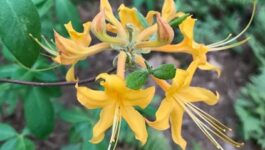 Please enjoy our latest edition of "Bit of Dirt" Spring-2021-Bit-of-DirtDownload … Read More
Upcoming Events:
Welcome to GCMGA Meetings. Until further notice, all our meetings will be via Zoom. In order to attend you will need the Zoom link which is shared with members only. If you are not a member but would be interested in attending the meeting, please contact Lynda Pollock, our President, via gwinnettgardener@gmail.com or any other GCMGA member. We'd love for you to become a member. You can join as a certified Master Gardener or as a Friend. Cost is only $15 for the year. Being a member gives you access to the members only areas of the website, automatic links to Zoom meetings, and many other activities. We hope you will consider joining us. Membership fees help support grants to school and community garden projects sponsored by Gwinnett County Master Gardeners. Welcome!
Our Zoom meeting for May will feature the much anticipated presentation of the Annual Photo Contest entries. Jenny Burdette is our judge this year and we're delighter to have her. A self-taught nature and wildlife photographer, Jenny lives in Dacula, GA. A retired educator, she has combined her love of nature with her interest in photography to create a second career. Her work has appeared on the covers and pages of Georgia's Great Places magazine, and her images are featured in the Visitor Centers at Red Top Mountain State Park in Cartersville, GA, and Providence Canyon State Park near Lumpkin, GA, as well as on postcards and promotional materials for Georgia State Parks and Historic Sites.