Support the programs run by our member volunteers and get quality compost for your garden at a discounted price. Soil3 is certified for organic … Read More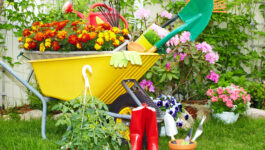 Our association is proud to announce awards totaling $5000 for these grant projects in Gwinnett County. We're particularly glad to see five schools participate in their school gardens to … Read More
Upcoming Events:
Welcome to GCMGA Meetings. Until further notice, all our meetings will be via Zoom. In order to attend you will need the Zoom link which is shared with members only. If you are not a member but would be interested in attending the meeting, please contact Lynda Pollock, our President, via gwinnettgardener@gmail.com or any other GCMGA member. We'd love for you to become a member. You can join as a certified Master Gardener or as a Friend. Cost is only $15 for the year. Being a member gives you access to the members only areas of the website, automatic links to Zoom meetings, and many other activities. We hope you will consider joining us. Membership fees help support grants to school and community garden projects sponsored by Gwinnett County Master Gardeners. Welcome!
Member Carol Hassell is our speaker for the March 15 Zoom meeting.  She will share her knowledge about "Protecting Land for Today and Tomorrow".  Carol Hassell is a co-founder and Executive Director of the Georgia Piedmont Land Trust whose mission includes the preservation of open and green space in the northern portion of Georgia; the protection of water quality in area streams and rivers, habitat, working land, historical and archeological features; and education about the values of and tools for land conservation. 
On April 19th Shirley Bohm will give a talk about "Vines Garden Park – A Learning Garden".  Vines Park near Loganville is one of the three heritage parks in Gwinnett County.  Previously a private botanical garden, it was donated to Gwinnett County by Bo and Myrna Adams in 1990.  Master Gardener volunteers have done the majority of the maintenance in the nine individual garden settings for more than 10 years.  This 90-acre park, including a lake and 30 acres of established gardens, is used by the Master Gardeners as a backdrop for many learning experiences.  Learn more about Vines and enjoy a picture tour of the grounds.