Support the programs run by our member volunteers and get quality compost for your garden at a discounted price. Soil3 is certified for organic gardening.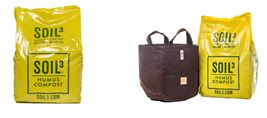 Are you looking for the Big Yellow Bag – a cubic yard? Please go to Soil3.com and enter code MGGwinnett1 to receive your discount. Note that our code is only valid from March 16 – 30. The Mini Cube and Mini Garden Kit must be ordered on our website to obtain the discount.
The Mini Cube is 1 cubic foot of humus compost @ $13.99. The Soil3 Mini Garden Kit is a Mini Cube plus a 7 gallon root pouch @ $20.99. You can order here using the PayPal buttons below or print our Soil3 flyer and mail the flyer with a check. These orders must be placed by April 4th.
Pick up for the Mini Cubes and Garden Kits will be on April 10th
9AM-12PM at the Snellville Community Garden at Briscoe Park!
Note that any order that is not picked up (or arranged to be picked up) will be donated to the Community Garden.
Please choose either (or both) PayPal buttons to add items to your cart. PayPal will total the cart for you and you may use a credit card or your personal PayPal account to pay. You will receive a confirmation email.
Soil Mini Cube $13.99 each
Soil Garden Kit $20.99 each