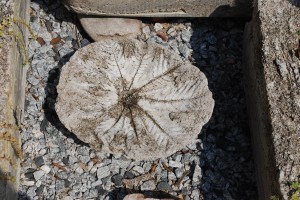 Gwinnett Master Gardeners are always learning new skills, and thanks to Workshop Host Carole Teja we now know how to master hypertufa.
To follow our earlier birdhouse workshop, it was natural to add a birdbath to the garden for our fine-feathered friends.  After selecting our favorite Colocasia leaves from Carole's garden, we got busy mixing a formula of Portland concrete, peat moss, vermiculite, and water.  We mixed the concoction in wheelbarrows until it was the perfect consistency.  Then it was time to get down and dirty forming our water feature using the Colocasia leaf as our mold.   We had to determine how deep we wanted the shape to hold water, then we patted it into shape, carved our signature on the bottom to identify it as our own, and covered it with plastic.  What fun that was . . . more fun than making our childhood mud pies!
Since we had to let the form to dry for a few days, we left our treasures in Carole's garage and anxiously waited to collect our unique garden art.  Now we are ready for the next step . . . making a trough planter using hypertufa!
Please click on the following picture to view as a slide show.