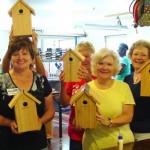 Making a home for our fine-feathered friends was a new experience for many of us.  Under the direction of Jane Burke and Aaron Tulin, our workshop hosts, and thanks to Mary Ann Hindes, Education Chair and workshop coordinator, we had the opportunity to learn many new skills.
At first glance this seemed a simple process — it is a birdhouse, isn't it?  However, carefully measuring and following instructions turned out to be a challenge for the students and the instructors' patience!  Plus, most of us had never used a drill press or a miter saw. After a serious safety talk, we don our safety glasses and ear protectors and put the power equipment to work to construct our cedar birdhouses.
After we completed the cutting and scored foot holds for our feathered friends to easily access their home,  there was more measuring, drilling, re-measuring, and checking the fit before we could raise hammers to assemble our projects.   We had many giggles over how confusing it was to make sure the swing door was not glued close and the spacer was in place to provide ventilation.  Finally, it was ready for the roof cap and pictures of our finished houses!
The only step not completed was deciding on where in our garden to place our new home for our chickadee and titmouse friends. Following the workshop, a tour of Jane's garden gave us many ideas on finding the perfect spot!