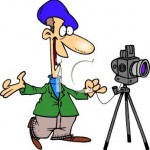 Many of us have entered pictures in the annual GCMGA photography contest, but knew we could have gotten the photo shot just a little better. Many of us have wanted to enter pictures, but didn't feel confident that our pictures were contest quality. Thanks to Don Stewart and Mary Bachner, Gwinnett Master Gardeners and talented photographers, we had the opportunity to improve our photography skills.
Don and Mary conducted a very thorough photography workshop that provided a high level overview of digital photography.  We learned many tips for taking great photographs—including rule of thirds, using leading lines, trying different perspectives, and making the most of light and dealing with shadows.  
Don and Mary highlighted the features and benefits of various cameras, so we will be more informed in selecting the right camera for our personal photography goals.  Of course, one of of biggest obstacles in photography is understanding our camera.  We learned about aperture, shutter speed, ISO, white balance, quality settings, resolution and size as well as sensors and camera modes.  We were given tips on getting good exposure, ensuring a sharp picture, and how to make our subject stand out—or stop them in motion! 
The next step is to process these wonderful digital pictures to their greatest advantage.  To help us, Dona and Mary provided an overview of available software and a list of references and sources for even more information.  
Armed with this wealth of information and the determination to capture that "perfect" photo moment, there will certainly be even more tough competition in the GCMGA Photo Contest this year!