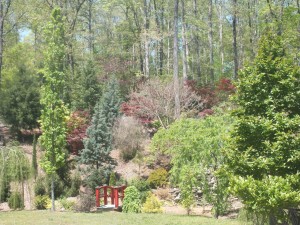 The Cox Arboretum and Gardens is a private estate located in Canton, Georgia.  Numbering over 4,000 living specimens, the plantings display one of the largest private collections of temperate flora in the United States.  The property is also bounded by several large wetland habitats where many migratory and native fowl make their home.  It is situated on 13 acres in the middle of an old-growth southern deciduous hardwood forest, containing many large Oaks, Hickory, Poplar and Sweetgum—some of which are over 100 years old.
We were led on a tour of the gardens by owner and garden creator Tom Cox.  Tom served as a national president of the American Conifer Society and he now travels the world in search of conifers that might be adaptable to the Southeastern United States.  Along with Dr. John Ruter, he is in the process of co-authoring a first-ever book on conifers for the South.
The opportunity to experience a collection of  trees and conifers from around the world provided a wealth of knowledge.  We are now more aware of the diverse selection we have to choose from that can successfully be grown in our environment.