Ingredients:
White wine vinegar
Chive flowers removed from stalks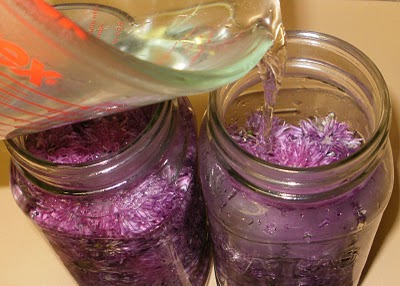 Wash flowers, spin or shake off excess water and let dry outside for about an hour (on top of the refrigerator will also work if it is cold or rainy outside).  Water on the flowers will cloud the vinegar so take time to make sure they are perfectly dry.
Stuff flowers in a clean canning jar and pour in boiling vinegar to cover.  You may have to use a spoon to push the flowers down as they float to the top.  Secure the lid while the vinegar is still hot.
Place the jar in a dark, cool place, like in a pantry, for at least two weeks.  Strain the flowers out using several layers of muslin cloth.  Be sure to get all the flower pieces out.
Use on salads, as a marinade or anywhere you would use flavored vinegar.