Perennials are nature's miracles. Look at a perennial garden in the dead of winter and what do you see? Nothing, most likely! Then, as the days get longer and the sun begins to warm the earth, little green things begin to emerge from the soil and soon there are bursts of foliage everywhere not long after complemented by blooms in all sorts of colors.
My favorite flowering perennials, in a still young garden, are Sedum "Autumn Joy", Shasta Daisy "Crazy Daisy", Daylilies, Gaura "Siskiyou Pink" and Joe-Pye Weed. Let me add to that Baptisia, Asters, Phlox, Bearded Irises, and well enough.
In my garden, plants have to love sun. For that reason I have only a few Hostas and Lenten Roses and other perennials that are not so thrilled about growing in full sun. Thus, my experiences and advice will benefit you if you have a sunny garden: by picking the right perennials, you will certainly be just as successful in your shade gardens. Because perennials are easy to grow! That does not mean that a perennial garden is a carefree garden; quite the contrary, in fact. Once you get started, you will forever be pinching, deadheading, watering, fertilizing, and replanting. A case in point: one Daisy I bought in 2005 is today 14 daisies, in different parts of my garden, in addition to several divisions I have given away to relatives, friends, and neighbors.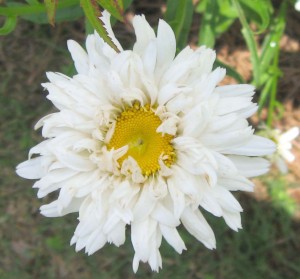 The vendor, at a community plant sale, from whom I bought that Daisy, suggested I might want to have Daylilies in my garden also. I was not interested and wondered why anyone would want to bother with a plant that blooms for a day and is then finished. I learned differently, of course, and I imagine you do not share my earlier ignorance. My first Daylilies were "Chinese Princess", from Bloomin' Designs in Auburn. Many others have been added since then and one of my newest favorites is 'Chicago Knockout'.
The Sedum followed the Daisy and the Daylilies into my garden. I was not looking for Sedum, but happened to see three poorly growing, tiny ones at a "Big Box" store, somewhat apart from any display, almost as if ready to be thrown out. Not only did they revive in my garden, but also they have grown beautifully and been divided several times.
The Joe-Pye Weed came next, not because that was the order in which I had expected to make my perennials acquisition, but because I could not fine one sooner. Although ubiquitous in the wild all over North Georgia, not many nurseries carry this wonderful plant. Mine came from Land Arts in Monroe (now closed) two years after I had started gardening, and the anticipation every spring since then has been palpable. I begin looking for it in mid April, but it is often the first week in May before the first pips come out of the ground. Then, a week later they are 6 inches high – with the right temperature
(very warm) and humidity (the higher, the better), you can almost see the plant grow when you stand next to it for an hour.
Joe-Pye Weed is not crazy about all-day sun, it loves ample supplies of water and it needs space, lots of it.
When I decided to become a gardener and bought the book that still inspires me today – Georgia Gardener's Guide, by Erica Glasener and Walter Reeves – it was the Joe-Pye Weed that became my first "must have" plant and I am delighted I found it.
I first encountered Gaura at the UGA trial gardens in Athens. I had never heard of it. It was not in Georgia Gardener's Guide, and I had not seen it in any of the nurseries I had visited in Northeast Georgia. But when I saw it in the Athens-Clarke County Master Gardeners' plant sale, I bought it, brought it home, moved it around a bit and finally found a good place for it between a (low) Lambs' Ear and a (tall) Viburnum. I've added several more of them in the past two years, with bloom colors that vary from subtle to dramatic, and have come to like 'Siskiyou Pink' best. Unlike my Daisies, Joe- Pye Weed, Sedums, and the Daylilies to a certain extent, the Gaura is content to just sit there, without a need, at least so far, for being divided.
A rule of thumb is to plant perennials in the fall, so that they have all winter to get used to their new location and will be ready to be at their best in spring. However, I have divided and planted Daisies in July heat and they have done fine. My Sedums, I divide in late winter, just after they begin popping out of the ground; and Daylilies, I have been told, can be jostled around, dug up, ignored, stomped on – whatever – and will forgive you and do well again the next year.
As a beginning gardener in Georgia, do not overlook flowering perennial herbs. My favorites are Lavender 'Provence', Rosemary, whose tapers of blue flowers attract lots of attention in late winter, and Thyme, which delights with white and pink carpet swatches in spring and summer. My favorite purveyor of small herb plants in late April and early May is Cheryle Maddox in Hoschton, who does not have a web site, but can be reached at 706-654-3534. She usually has dozens of perennial and annual varieties available and maintains a beautiful herb garden of her own. Her husband, Ray, grows and sells vegetables throughout the season, beginning with lettuce in April.
Related Images: