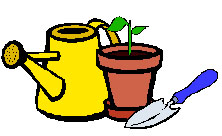 There are many reasons to propagate plants but the basic reason is simply to make multiple plants from a single plant that is unique, attractive, or has become old and leggy. Of course, propagation can be for sentimental reasons because it grew in grandmother's garden.
It is not possible to cover all the propagation techniques in one article but there are many reference books on the topic, some of which are given at the end of the article.
PLANT PROPAGATION METHODS
Sexual Propagation: This is the method of reproduction that yields new plants from viable seeds produced by plants. The advantage of asexual propagation is that seeds can be stored for a long period of time. Propagation from seed results in genetic variability and is useful if the intent is an improved or different plant characteristic.
Asexual Propagation: Asexual propagation results in plants that have the same characteristic as the parent plant with regard to size, form, color, and growth habit. Methods include stem cuttings, leaf cuttings, division, layering, root cuttings, and leaf bud cuttings. Commercial nursery trade methods included grafting, budding, and tissue culture.
PROPAGATING NEW PLANTS
To be successful in plant propagation, it is important to consider the rooting and growing media, rooting hormone, temperature, light, moisture, and fertilization. The most common and easiest methods of plant propagation are stem cuttings, simple division, and layering. Due to space
limitations, only propagation by stem cuttings will be covered.
Cuttings: The types of stem cuttings generally used for propagating woody plants are softwood, semihardwood, and hardwood.
Softwood cuttings are taken from new growth of the current season. They are used for propagating deciduous shrubs. The best months to take softwood cuttings of shrubs are June and July although some may be taken in August. I've had 100% success rate rooting acuba cuttings taken in June.
Semi-hardwood cuttings are taken in late summer but are made from the current season's growth that has partially matured and is becoming woody. Examples are broad-leaved evergreens such as holly, euonymus, and azalea. My records indicate a survival rate for Dwarf Burford hollies of about 70% using cuttings taken in August.
Hardwood cuttings may be taken from deciduous plants and narrow-leaved evergreens. Cuttings are usually taken in late fall or early winter after the plants have gone dormant. Examples of suitable deciduous plants are althea, barberry, and spirea. Cuttings from narrow-leaved evergreen plants should be taken from the terminal growth of the previous season's growth and contain a small portion of year-old growth. Examples are junipers and yews. My survival rate for Sargent juniper cuttings taken in August is about 60%.
PROPAGATION BY CUTTINGS

Taking the Cutting: With a sterilized sharp knife, make a slanting cut from a terminal section of an un-branched stem 8 to 10 inches long. Then trim the base to just below a node leaving a cutting of about 4 to 6 inches. Avoid taking cuttings from weak, spindly growth. Remove the lower ½ to 2/3rds of the leaves and any flower buds. Sometimes I strip away about ½ inch of the bark and cambian layer to assist in rooting. Softwood
and semi-hardwood cuttings should be taken during the cool portion of the day. As you collect the cuttings, place them in a plastic bag to avoid wilting.
Rooting Media: The rooting medium must be clean and sterile. Make sure the pots or containers, tools, and workbench are also sterilized. For sterilizing my equipment and pots, I use a solution of 10% chlorine and 90% water. The rooting medium should not contain any fertilizer. Begin fertilization only after the cuttings are rooted and have been transplanted to the growing medium.
Clean, coarse, construction sand by its self may be used as a rooting medium. Avoid fine sand since it has poor aeration that retards root formation. I have found that a generic mixture of one-part coarse sand to one-part peat moss, by volume, works well. Different media formulations, however, may be needed for specific plants (see references).
Horticultural grade (No. 2) vermiculite is suitable for rooting cuttings. Perlite gives good results when mixed with an equal volume of peat moss or vermiculite.
Garden soil should not be used for a rooting medium, even if it is sterilized, since it tends to compact and have poor aeration qualities.
Inserting the Cutting: As little time as possible should lapse from the time the cuttings are taken until they are inserted into the rooting medium. I usually dip the base of the cutting in a rooting hormone such as Rootone. Use a dibble or sharpened dowel to make a hole in the moist rooting medium and stick the cutting into the rooting medium up to the remaining leaves. Water thoroughly to settle the medium around the base of the cutting.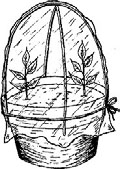 Care of the Cuttings: The cuttings must never be allowed to dry out but avoid excessive watering that results in poor aeration and death of new roots. Since cuttings don't have a root system, high humidity must be maintained. Low humidity will result in wilting, scorch, leaf drop, and death. Enclosures help maintain high humidity.
If only a few cuttings are to be rooted, a miniature greenhouse can be created using a plastic pot with good drainage that is covered with a large plastic bag that is supported by wire cut from coat hangers. Monitor the plastic bag for condensate and water the medium when the condensate on the bag disappears. Never place plastic-enclosed containers in direct sunlight or excessive heat will build up. For rooting large numbers of
cuttings, use a coldframe, hotbed, or greenhouse.
My personal preference is a not-so-fancy coldframe made from scrap lumber and an old window sash. The back of the coldframe should be about 6 inches higher than the front of the frame. I stick individual cuttings in 3" pots containing a rooting medium of equal parts coarse sand and peat moss. The bottom of the coldframe contains a mixture of manure mixed with grass clippings or leaves to provide bottom heat to the pots. I mist and/or water the cuttings on a daily basis (sometimes more often) to keep high humidity in the coldframe. The coldframe is located in an area that is in indirect light for most of the day. If it gets any direct sunlight, I cover the coldframe sash with an old screen or wooden lathes.
Very Important – Care of Rooted Cuttings: This is the point where many failures occur and is seldom addressed in most books. Root formation time varies greatly depending on the plants. Most woody cuttings root in about 8 to 10 weeks (forsythia) but rhododendron can take 3 to 4 months. Check cuttings after about 6 weeks by carefully removing a couple from the rooting medium. After the cuttings have roots that are about 1-inch long, they can be transplanted into the growing medium. Remember that the move from a high humidity, moist environment to a low humidity, dryer soil is a critical transition period. Give these plants close attention for the first few weeks after the transplant. During this period keep them well watered and reduce heat stress by placing them in a shaded area.
If only a few cuttings are rooted, pot them in individual containers containing the growing medium. For most plants, a growing medium of equal parts good topsoil, coarse sand, and peat moss works well. Azaleas and rhododendrons require an acidic soil mix that can be purchased. Add about 1 cup of 10-10- 10 fertilizer and 1 cup of ground limestone to each bushel of growing mixture. Mix thoroughly before filling the containers. For the time-strapped propagator, purchased potting soil used for houseplants may be substituted.

If you have a large number of cuttings, develop a nursery bed using thoroughly pulverized soil and work in 3 to 4 inches of compost, peat moss, or other organic material. Add fertilizer and lime as directed by a soil test. Install some shade over the cuttings during the first growing season. Using laths, burlap, or old screens can provide shade.
During the first winter, provide protection to the transplanted cuttings by mulching with wheat straw or use a coldframe. If using a coldframe, remember to open the cover on hot days. After two growing seasons in the nursery bed, the new plants can be moved to their permanent location.
Please remember that these steps are generic in nature. The type of plant, the length of time needed to root, the composition of the rooting and growing medium, and the proper time of year to take cuttings is very plant specific. Please use one or more of the reference books list or talk to people who have had experience with propagating certain types of plants for more specific guidance.
PLANT SPECIFIC PROPAGATION TECHNIQUES
Plant

Cutting

Layering

Softwood

Semihardwood

Hardwood

Simple

Air

Compound

Abelia

X

X

X

Althea

X

X

Azalea

X

X

X

Barberry

X

X

X

Boxwood

X

Butterfly Bush

X

X

X

Clematis

X

X

X

Cotoneaster

X

X

X

Crape Myrtle

X

Euonymus

X

X

X

X

X

Forsythia

X

X

X

Hawthorn

X

X

Holly

X

X

X

Honeysuckle

X

X

X

Hydrangea

X

Juniper

X

X

Kerria

X

X

X

X

Magnolia

X

X

X

X

Mahonia

X

Pyracantha

X

X

Rhododendron

X

X

X

Rose

X

X

X

Spirea

X

X

Sweetshrub

X

X

X

X

Viburnum

X

X

X

Weigela

X

X

Wisteria

X

X

X

Yew

X
REFERENCES
Toogood, A. 1999. American Horticultural Society Plant Propagation. DK Publishing, Inc.
Cullina, W. Native Trees & Shrubs, Vines. 2002. Frances Tenenbaum Book.
Cullina, W. Wildflowers. 2000. Frances Tenenbaum Book.
Macdonald, B. Practical Woody Plant Propagation for Nursery Growers. 1986. Timber Press.
Hartmann, H.T. and D. E. Kester. 1983. Plant Propagation Principles and Practices. Fourth Edition. Prentice-Hall, Inc.
Dirr, M. and Charles Heuser. The Reference Manual of Woody Plant Propagation. 1987. Varsity Press, Inc.
Dirr, M. Manual of Woody Landscape Plants. Fifth Edition. 1998. Stipes Publishing L.L.C.
Free, M. Plant Propagation in Pictures. 1957. Doubleday & Company, Inc.