On September 20, 1993 the first official club meeting of Gwinnett County Master Gardeners Association was held at the Gwinnett Justice and Administration Center in Lawrenceville. Don Freidus, class of '93 was instrumental in getting others interested in our club.
The first officers were not elected by the usual manner (testimony to our inexperience) but either volunteered or was appointed by the President. Our first President was Don Freidus; Vice President: Gail Martin; Secretary; Maria Turk, and Treasurer: Brenda Adams. Polly Patterson and Faye Harwell were the Program Committee. Brenda Adams and Gail Martin originated and produced our Quarterly Newsletter, A BIT OF DIRT, which started with the Winter Issue in 1993. Gail Hollimon volunteered to coordinate the communications phone tree (prior to internet access and  emailing ability).
We set up our club to get Master Gardeners together so they could get to know each other, help and
support each other and to support the Extension Service and Community by dispersing our knowledge for their benefit. After about a year, we set up our Constitution and By-Laws, bank account and monthly meetings.
We have had some good programs through the years, including such speakers as Kathy Henderson, Penny McHenry and Walter Reeves as well as many others. We try to have an informative, entertaining program each month and keep our meetings short and enjoyable. We usually have snacks and door prizes.
Some of our accomplishments over the years have included: Creative Enterprises in Lawrenceville – we contributed to the building of the greenhouse (spearheaded by Don Freidus) and setting up the educational program that enables special needs participants to work with plants and ultimately produce a sellable product – beautiful flowers. CE continues to grow and remains a strong aid to many in our community.
Gwinnett County Schools, Parks, and Senior Centers have benefited from new outdoor classrooms, revitalized wildlife areas, vegetable and flower gardens, ongoing teaching about environment. We will have a new county facility in 2007 to work with called the Gwinnett Environmental and Heritage Center in Buford.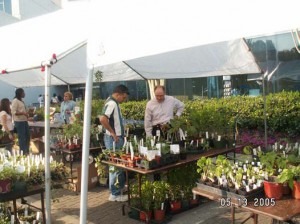 Plant Sales – we have, in the past, had access to Gwinnett Tech plants at a low price, and, along with plants from our own yard, we started having plant sales. One year our MG's assisted Gwinnett Tech on site at their sale. Held in the spring, our Master Gardener Annual Plant Sale has been our principal method of raising money for our community projects. Most of the Plant Sales have been located in front of the Gwinnett Justice and Administration Center (GJAC). There is wide participation and everyone has fun working the sale. It's become quite popular with return  patronage.
Other projects have included a Native Plant Trail at Gwinnett Tech, assistance at the Wynne-Russell House, the Elisha Winn House, Collins Hill Library, Habitat for Humanity and many more. We have also established ourselves as the "county to beat" when it comes to providing  hospitality/food to the MG Interns while they attend their classes.
An important part of our Gwinnett group is to visit both private and public gardens and other places of interest to observe horticulture, wildlife, etc. These "educational" field trips enrich our knowledge and bring us closer together.
In the past few years, under the leadership of our GCMGA board members, our membership has grown to over 200 Master Gardener members, interns and friends of the Master Gardeners.
We believe our club will continue to thrive as long as we have people who love to help out and participate in our community and have the good nature inherent  in most gardeners. As we go into our 14th year, let's give even more to make this the best organization ever!